About Our Tummy Tuck Surgeon and Team
Whether you are interested in body contouring or a different type of surgery, our team at Richmond Aesthetic Surgery is here to help you achieve your aesthetic goals. Our highly sought-after plastic surgeon, Dr. Neil J. Zemmel, along with our knowledgeable physician assistant, Megan J. Goff, and family nurse practitioner, Alicia Walker, strive to provide the highest quality of care throughout your plastic surgery journey.
From the moment you enter our practice to your post-operative follow-up visits, you will be cared for by a team of friendly, experienced professionals—all of whom are committed to your safety, satisfaction, and overall wellbeing. To learn about our team's background and credentials, please read their details below. If you have any questions or are ready to schedule your consultation with our team, please feel free to give us a call!
Dr. Zemmel and staff were so welcoming and helpful from the time I first walked in the door. They listened to me and understood exactly what I wanted and answered all my questions (without making me feel dumb for asking!) Great throughout the entire process. I never had to wait and they made me feel like I was their only patient. I would recommend Richmond Aesthetic Surgery to anyone considering cosmetic surgery for a world class experience and more importantly world class results!

Stacey H

April 07, 2013

12345
Neil J. Zemmel, MD, FACS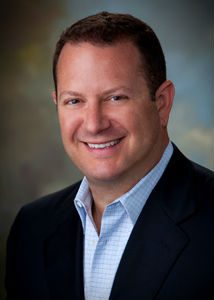 Dr. Zemmel is our board-certified plastic surgeon who opened Richmond Aesthetic Surgery in 2007. As the practice's Medical Director, he is considered an authority on a wide range of surgical procedures—from facial rejuvenation to breast enhancement to body contouring. Dr. Zemmel completed his undergraduate education from the College of William and Mary and then continued to the University of Virginia School of Medicine. After earning his medical degree, Dr. Zemmel completed a residency at the Virginia Commonwealth University Medical Center, during which he was Chief Resident of Plastic Surgery in his final year.
In his mission to be the best plastic surgeon possible, Dr. Zemmel strives to continuously hone his surgical skills to offer his patients a superior level of care. As part of this goal, he was selected by Allergan for an exclusive preceptorship in 2016 under the direction of Dr. Charles Randquist. Dr. Zemmel was one of only five plastic surgeons to be invited to this training in Stockholm, Sweden to learn the cosmetic breast surgery techniques for which Dr. Randquist has become internationally known.
Dr. Zemmel's advanced expertise in cosmetic and reconstructive plastic surgery has led to him being recognized by multiple media outlets. This includes receiving the "Top Doctor" award by Richmond Magazine, "Best of Richmond – Reader's Choice" by Style Weekly, and "Top Ten Doctor" and Patients' Choice Award by Vitals. In addition, Dr. Zemmel was also awarded "Compassionate Doctor" by Vitals, which is only awarded to 3% of active physicians and is voted on by patients.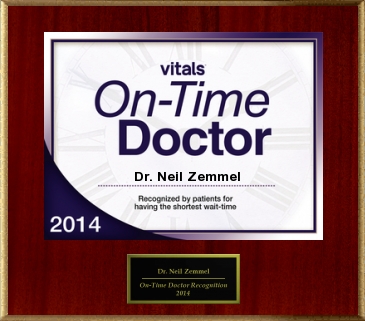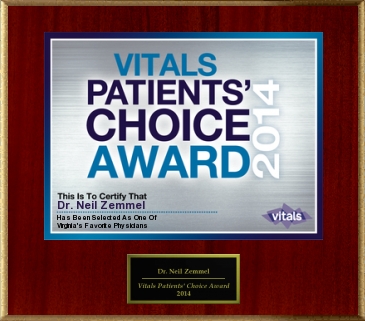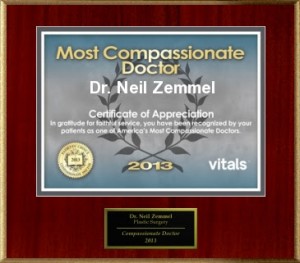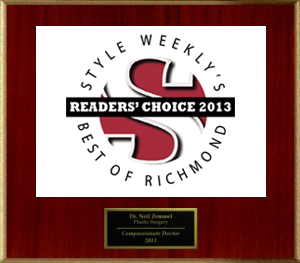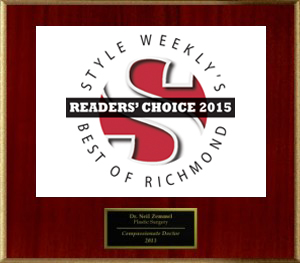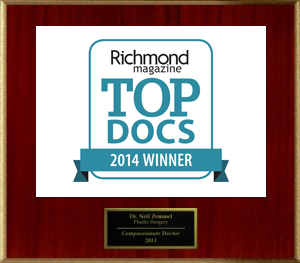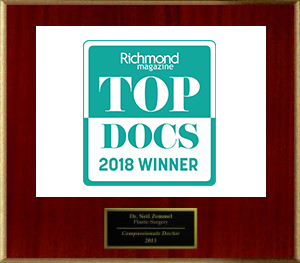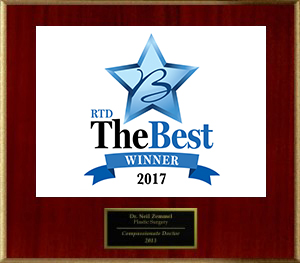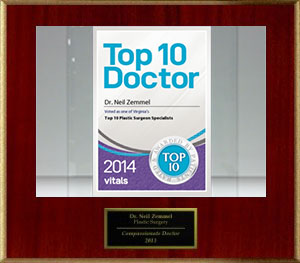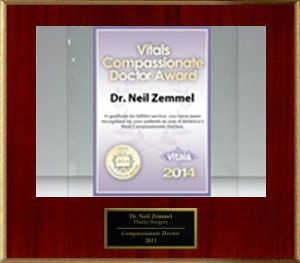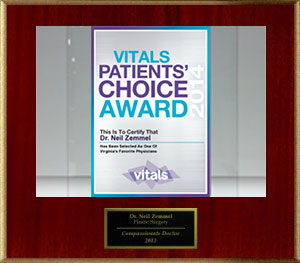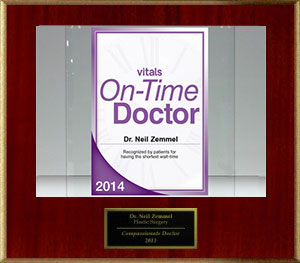 To stay involved within the medical community, Dr. Zemmel holds positions in multiple organizations. He is a Diplomate of the American Board of Plastic Surgery and a Fellow of the American College of Surgeons. Dr. Zemmel is also a member of the American Society of Plastic Surgery, the American Society for Aesthetic Plastic Surgery, and the Medical Society of Virginia.
Megan J. Goff, PA-C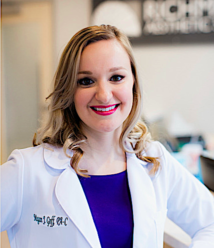 Megan is the board-certified physician assistant who is now the full time injection specialist at the Dermlounge. She is a friendly, compassionate part of our team, caring for patients at every step of the procedural process. From educating patients to assisting in after treatment recovery, Megan enjoys helping patients achieve their desired outcome while ensuring they remain comfortable and confident throughout their visits. As a testament to her focus on patients' wellbeing, Megan was awarded "Best Bedside Manner of Physician Assistants" by Our Health Richmond, and she was also recognized by the Virginia Academy of Physician Assistants for her collaboration with Dr. Zemmel.
Megan obtained her Bachelor of Science degree from James Madison University, after which she entered Shenandoah University's prestigious physician assistant program and earned her master's degree. In addition to providing injections treatments at the Dermlounge, she has a special interest in breast cancer patients. In fact, outside of Richmond Aesthetic Surgery, Megan acts as an educator for Susan G. Komen, helping raise awareness on breast health. In her free time, she can be found enjoying activities like boating and traveling internationally with her husband, Matt.
Alicia Walker, FNP-BC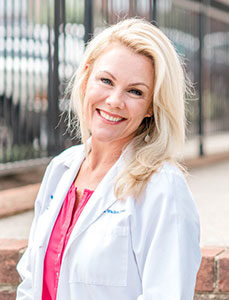 Alicia is a board-certified family nurse practitioner who assists Dr. Zemmel in the operating room, as well as performs injectable treatments at the Dermlounge. With over 18 years of practice experience, she is committed to enhancing patients' lives by providing excellent care.
Alicia earned her RN diploma from the former Richmond Memorial School of Nursing, and continued to the Virginia Commonwealth University for her Bachelor of Nursing. She went on to complete a Master of Science in Nursing from the University of Virginia School of Nursing. Alicia began her career with the Cardiovascular Center of Hampton Roads in Newport News, VA. She then came back to Richmond to hone her skills in orthopedics and spine, in which she has over 15 years of experience. Alicia has also completed advanced training in sports medicine and joint replacement procedures, as well as over five years of experience in spine surgery.
In addition to helping patients at Richmond Aesthetic Surgery and the Dermlounge, Alicia enjoys spending time with her husband, Drew; daughters, Anna and Reese; son, Xander; and Australian Labradoodle, Archie. She is passionate about healthy living, and she also spends time supporting and volunteering with Comfort Zone Camp.
How to Find the Best Tummy Tuck Surgeon for You
As you look for the right tummy tuck surgeon for your needs, there are specific criteria you should seek. Perhaps the most important credential you should look for is certification by the American Board of Plastic Surgery. ABPS-certified plastic surgeons undergo at least six years of general surgery training and three years of plastic surgery residency training. They must also pass a rigorous examination process, complete yearly continuing education, and perform surgery in facilities that are accredited, state-licensed, or Medicare-certified.
It can help to meet with multiple surgeons to compare which professional you feel more comfortable with. During the consultation process, you should ask questions and request to see before and after photos of past tummy tuck results they have helped patients achieve. The best tummy tuck surgeon for your procedure will help you feel at-ease and confident in their skills, as well as be transparent with you about the pros and cons of your surgery.
Questions to Ask Your Tummy Tuck Surgeon
During your tummy tuck consultation, you will have the opportunity to ask questions and voice any concerns you may have. To guide you through this appointment, and help ensure you get a thorough understanding of what to expect from your tummy tuck surgeon, make sure to ask questions similar to the following:
Are you certified by the American Board of Plastic Surgery?
How long have you been performing tummy tuck surgery?
Do you think I'm a good candidate for a tummy tuck?
What can I realistically expect in my results?
Are there any special precautions I need to take before or after tummy tuck surgery?
Do you perform tummy tuck surgery at a hospital or accredited facility?
What are the risks of tummy tuck surgery?
How long will it take until I can see my final tummy tuck results?
How will my tummy tuck results change over time?
Do you have before and after photos of previous tummy tuck patients?
If you are ready to get started on your tummy tuck journey, please contact us to schedule your consultation with Dr. Zemmel.