Mommy Makeover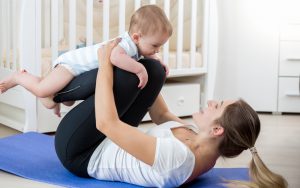 Becoming a mother can be one of the most joyous moments in a woman's life. The effects of pregnancy, childbirth, and breastfeeding, however, can often leave unwanted changes to the body, which cannot always be reversed with diet and exercise alone. Many women who strive to attain their pre-pregnancy figure become frustrated when they do not achieve the results they desire. A mommy makeover is a fully customized, comprehensive body rejuvenation treatment plan that can address a number of common cosmetic concerns simultaneously.
Benefits of Mommy Makeover
The mommy makeover procedure is tailored to meet each woman's unique needs. During the consultation process, your plastic surgeon will thoroughly discuss your goals and expectations. Your customized mommy makeover can target a wide variety of changes caused by pregnancy, childbirth, and breastfeeding, including:
Decreased breast volume
Sagging breasts
Isolated fat deposits
Excess abdominal skin
Loose or torn abdominal muscles
Stretch marks
Facial aging
Our plastic surgeon at Richmond Aesthetic Surgery carefully designs each mommy makeover to achieve beautiful, natural-looking results.
Mommy Makeover Procedures
Since each woman's body is unique, there is no one formula for the perfect mommy makeover. A mommy makeover is comprised of a number of different procedures that can either be completed all at once or in stages. Common treatment options for a mommy makeover include:
Breast Lift
Pregnancy and breastfeeding can cause the breasts to change size, the skin of the breasts to become stretched, and excess tissue to remain. As a result, drooping or sagging often occurs. With a breast lift, your plastic surgeon can restore the breasts to a more youthful position and eliminate any excess skin.
Learn more about breast lift.
Breast Augmentation
Though a woman's breasts may increase in size during pregnancy, breastfeeding can leave the breasts looking or feeling deflated due to an overall loss of volume. Breast augmentation with implants allows our plastic surgeon to restore lost breast volume with results that both look and feel natural.
Learn more about breast augmentation.
Tummy Tuck
Pregnancy and childbirth can cause the abdominal muscles to become stretched or torn, resulting in a laxity that cannot be corrected with diet or exercise. A tummy tuck (also known as an abdominoplasty) can tighten and repair these muscles while eliminating any excess skin and even stretch marks. Afterward, the abdomen can appear flatter, more toned, and provide a more athletic silhouette.
Learn more about tummy tuck.
Liposuction
Oftentimes, diet and exercise alone prove ineffective at eliminating areas of stubborn fat that have accumulated during pregnancy. Liposuction is a body sculpting procedure designed for patients who are at or near their ideal weight but who still struggle with troublesome areas of fat.
Learn more about liposuction.
Body Fat Grafting
Body fat grafting can redistribute a woman's natural tissues to sculpt a more proportionate and symmetrical figure. By harvesting excess fat from one area and transplanting it to an area such as the breasts or buttocks, our plastic surgeon can enhance the curves and contours of the body.
Learn more about body fat grafting.
Laser Skin Resurfacing
With laser skin resurfacing, our plastic surgeon can improve the texture and tone of the skin. This laser treatment can be used to minimize the appearance of brown spots, age spots, sun damage, and facial aging for a refreshed and rejuvenated complexion.
Learn More about laser skin resurfacing.
Cosmetic Injectables
Injectable dermal fillers and neurotoxins offer a non-surgical solution to fine lines, wrinkles, and lost facial volume. These injectable treatments can be used to restore lost volume to the lips and cheeks as well as maintain youthful-looking skin.
Learn more about non-surgical skin treatments.
Contact Richmond Aesthetic Surgery
To learn more information about the mommy makeover procedure, or to schedule a consultation with Dr. Zemmel, please contact Richmond Aesthetic Surgery today.