Body Contouring after Major Weight Loss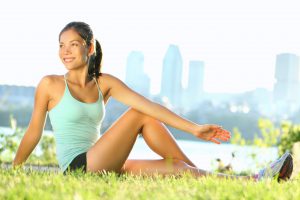 After dramatic weight loss, whether through a combination of diet and exercise or weight loss surgery, patients begin to experience a variety of positive life changes. Unfortunately, severely lax or hanging skin often remains, causing many men and women to feel self-conscious or limited in their physical activities. Even a nutritious diet and rigorous exercise will not likely reduce sagging skin as much as desired, often causing irritation, discomfort, and rashes.
Body contouring procedures after major weight loss can eliminate redundant skin, create a more toned appearance, and serve as the final step toward a slimmer physique and a healthy lifestyle. Both of our board-certified plastic surgeons, Neil J. Zemmel, MD, FACS and Karishma Reddy, MD, have vast experience in enhancing the post-weight loss surgery body. They can employ a number of advanced surgeries and techniques to re-create your ideal figure.
Featured Patient: Austin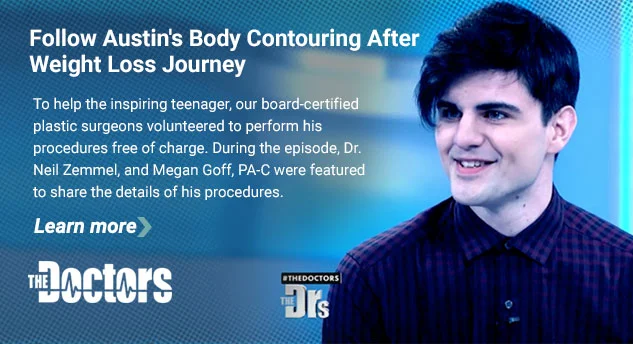 What Is Body Contouring After Major Weight Loss?
Post-weight loss body contouring can refer to a variety of different surgeries and methods to remove, redrape, and tighten excess skin that remains after significant weight loss. When administered by a qualified provider, the procedure can improve both quality of life and self-confidence.
Body contouring after major weight loss can be used to target lax skin in the abdomen, back, pubic area, thighs, upper arms, breasts, and more. For patients who still have isolated pockets of stubborn fat, liposuction can be performed as part of the body contouring procedure to maximize the impact of the results.
Am I a Candidate for Plastic Surgery After Weight Loss?
Candidates for post-weight loss surgery include patients with large amounts of hanging skin that cause aesthetic- or health-related concerns. Patients who lost the weight after a procedure such as gastric bypass are typically advised to wait at least a year before seeking body contouring surgery. This is because the body generally will not undergo additional changes that may interfere with plastic surgery after this point. Furthermore, the ideal candidate should be in reasonably good health, and should be at or near their goal weight.
What is a Body Lift?
A body lift, also known as a belt lipectomy or circumferential body lifting, is often performed after major weight loss to address skin laxity and deflation around the lower abdomen and back. Oftentimes, this laxity results in folds of skin accumulating around the midsection. Rigorous exercise can tighten and tone the muscles of the abdomen, but the loose skin often remains. Once the collagen and elastic fibers of the skin have been dramatically stretched, these structural changes cannot be reversed. Body lift surgery allows our plastic surgeons to remove excess skin and any remaining pockets of fat, smoothing the silhouette of the lower abdomen (such as in a tummy tuck), back, lateral thighs, and pubic area. Afterwards, patients can enjoy a more toned, lean-looking figure.
Benefits of Body Lift Surgery
Body lift surgery can benefit patients who have a number of common concerns after major weight loss, including:
Excess skin and fatty tissue that hangs over the waist
Rolls of skin and fatty tissue at the lower back or hips
Bulging "saddle bags" at the lateral hips or upper thighs
Abdominal wall weakness
Sagging buttocks
Excess skin and fatty tissue accumulated at the pubic area
The Body Lift Procedure
Ideal candidates for the body lift procedure are in good overall health, maintain a stable weight for one year or more, eat a nutritious diet, and regularly exercise. Oftentimes, body lift patients have undergone a prior bariatric procedure and seek to address outstanding concerns. Each body lift procedure is custom-tailored to meet the patient's individual needs. During surgery, excess skin will be removed from the lower abdomen, back, lateral thighs, buttocks, and pubic area. In addition, the underlying abdominal musculature can be tightened and the pubic area can be recontoured.

Thigh Lift
A thigh lift is commonly performed after major weight loss to address skin laxity of both the inner and outer thighs. This laxity frequently results in folds of tissue at the knee, chafing, or the development of rashes. In addition, excess skin sagging from the thighs can cause men and women to feel self-conscious about their appearance. Thigh lift surgery allows our plastic surgeons to reshape the thighs for improved tone and smoother contours. This procedure can also be used to maximize the results of liposuction targeting the thighs.
Benefits of Thigh Lift Surgery
Thigh lift surgery can be advantageous for patients who have aesthetic and functional concerns after major weight loss, including:
Excess skin and fatty tissue that hangs from the inner or outer thighs
Accumulated skin and fatty tissue hanging over the knee
Irritation or discomfort of the skin
Persistent rashes
The Thigh Lift Procedure
Ideal candidates for thigh lift surgery are in good overall health, have maintained a stable weight for at least six months, and exercise regularly. Thigh lift patients have often undergone a prior bariatric surgery and seek to eliminate any remaining excess skin and fatty tissue. Each thigh lift is customized to meet the unique needs of the patient and address their concerns. During the thigh lift procedure, redundant skin and tissue will be excised and patients can achieve a more toned, contoured silhouette.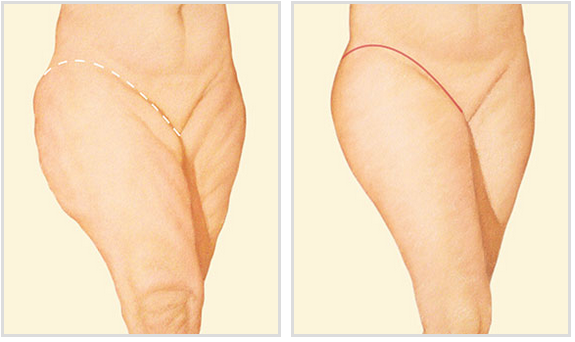 Arm Lift
An arm lift, also known as brachioplasty, addresses loose skin of the upper arm. Reduced skin laxity after major weight loss causes the skin to hang and may cause patients to feel embarrassed about wearing short sleeves or showing their arms. Some patients may also feel limited in their physical activities. Arm lift surgery can allow our plastic surgeons to remove excess skin, giving the arms a slimmer, more toned appearance. Patients who have had liposuction performed on the upper arms may also elect to undergo this procedure to maximize their results.
Benefits of Arm Lift Surgery
Arm lift surgery can benefit patients who have undergone major weight loss or bariatric surgery, offering advantages such as:
Smoother, sleeker appearance of the upper arm
Increased range of physical activity
Improved fit of clothing
Elevated self-esteem
The Arm Lift Procedure
The best candidates for arm lift surgery will be in good overall health, maintain a stable weight for six months or more, and follow a regular exercise routine. Many arm lift patients have undergone bariatric surgery in the past and seek to address remaining concerns. Our plastic surgeons customize each arm lift procedure to meet the needs and expectations of the patient. During the arm lift procedure, excess skin and tissue is removed from the upper arm, creating a slimmer shape.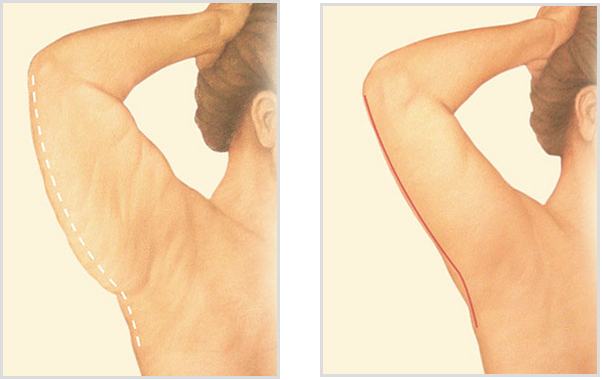 What Is Recovery Like for Post-Weight Loss Body Contouring?
The recovery from post-weight loss body contouring will vary from patient to patient. All sites of incision will be dressed and bandaged after surgery, and in some cases, small drainage tubes may be temporarily used. Some swelling, redness, soreness, and bruising can be expected. Prior to the day of your surgery, your plastic surgeon will thoroughly review care instructions for the surgical site.
Which procedure or procedures you choose as well as the complexity of each procedure can impact your total recovery time. Depending upon the procedure, patients may be asked to avoid bending over or standing fully upright to prevent undue stress on incisions at the abdomen or thighs. However, Dr. Zemmel and Dr. Reddy recommend patients move around as soon as they feel comfortable doing so in order to reduce the risk of blood clots. Sleeping with a pillow beneath the knees may improve comfort during sleep. Patients should avoid strenuous physical activity, lifting heavy objects, and exercise for about six weeks. Most patients are instructed to wear a compression garment during recovery to facilitate the healing process.
How Much Does Plastic Surgery After Weight Loss Cost?
Since the specifics of each custom-tailored treatment plan for post-weight loss body contouring varies greatly, there is no fixed cost for the procedure. The type or types of body contouring, the overall complexity of the procedure, the experience of the plastic surgeon, and the geographic location of the practice all factor into the final price. When comparing the cost of post-weight loss body contouring among different providers, be sure to ask what is included in the quoted cost. The total cost should include medical tests, the surgeon's fee, hospital fees, anesthesiologist fees, prescription medications, and any required post-surgical garments. Dr. Zemmel and Dr. Reddy will provide patients with the total cost of their procedure at the conclusion of their preliminary consultation.
Many of our patients choose to take advantage of our plastic surgery financing options.  CareCredit® allows qualifying patients to benefit from installment plans with low interest rates that can comfortably work within their budget.
Is Plastic Surgery After Weight Loss Covered By Insurance?
As with most elective procedures, health insurance providers typically do not cover plastic surgery after weight loss. When body contouring is performed to treat a medical concern, such as functional problems due to an abdominal panniculus (a fatty tissue layer over the lower abdomen) and associated excess skin, the procedure may be covered depending upon the specifics of your health plan. In these cases, health insurance providers usually require a referral from your primary care physician and/or pre-authorization prior to the date of surgery.
Contact Richmond Aesthetic Surgery
For more information about any of our body contouring procedures, or to schedule a consultation with one of our board-certified plastic surgeons, please contact Richmond Aesthetic Surgery today.