Liposuction
What is Liposuction?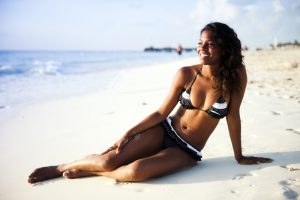 Liposuction is designed to permanently eliminate unwanted fat and can be performed on nearly any part of the body. However, this surgical procedure is not intended for patients seeking dramatic weight loss. Liposuction is most effective for patients who are at or near their ideal weight but still struggle with isolated fat deposits around areas such as the lower abdomen, hips, or love handles. Our plastic surgeon believes that liposuction is best thought of as a body sculpting procedure that can complement an active lifestyle and a healthy diet, helping patients to fully realize their goals.
What Areas of the Body Can Liposuction Treat?
Liposuction can benefit patients who are already close to their ideal weight but are unhappy with stubborn pockets of fat. When traditional methods of fat loss prove ineffective, liposuction can often be an effective method for revealing the natural curves or musculature of the body. Liposuction can be used to treat most areas of the body, including:
Upper and lower abdomen
Flanks/love handles
Hips
Thighs
Knees
Chin
Neck
Some men also choose liposuction as part of the treatment for gynecomastia (male breast reduction) to achieve a more sculpted chest.
Who Is a Good Candidate for Liposuction?
Ideal candidates for liposuction have pockets of fat that are resistant to diet and exercise efforts. In addition to being in good overall health, patients should have a body mass index (BMI) of 35 or under to minimize the risk of complications. Areas of the body with good skin tone and elasticity typically yield better results. The best way to determine your candidacy for liposuction is to schedule a consultation with a board-certified plastic surgeon.
Dr. Zemmel and his staff are awesome! I had liposuction of the abdomen and flanks and a breast reduction. I am so pleased with the results. I feel better and look better. I am only in to my 7th week of healing and I have already dropped 2 sizes in my clothes. What a feeling!!! I would strongly recommend Dr. Zemmel to anyone wanting to have 'body work' done. He is awesome.. The whole staff here is wonderful. They make you feel welcome and they truly care. I am looking forward to my new look.

Reece H

September 20, 2013

12345
How Is the Liposuction Procedure Performed?
Liposuction surgery requires only small incisions that can be carefully placed within the natural creases of the body. By using cannulas that are only 2-3mm, our plastic surgeon can minimize postoperative swelling and bruising as well as reduce the overall recovery time. Liposuction is a less invasive surgery compared to procedures such as tummy tuck, and can typically be performed in 1-3 hours depending upon the patient's customized surgical plan. Excess fat will be removed at the target area and the remaining fat can be sculpted to achieve a natural-looking, proportionate, and toned physique.
What Is Recovery from Liposuction Like?
Immediately after the procedure, liposuction patients wear a compression garment to minimize any post-operative swelling. This garment is worn for approximately three weeks to aid in the healing process. Any discomfort experienced during this time can be easily managed with oral pain medication.
Most patients return to work and their normal daily activities after one week. However, strenuous exercise should be avoided for several weeks afterward. Though patients will likely notice an immediate change, the final results of the liposuction procedure will not be evident until the swelling has completely resolved and the healing process is complete.
How Long Do Liposuction Results Last?
To maintain the results from liposuction, patients should continue to exercise regularly and eat a healthy diet. The fat cells that are targeted during liposuction are permanently removed and cannot regenerate. However, the remaining fat cells are still susceptible to fluctuations in size. Patients can gain (or lose) weight after liposuction, depending upon lifestyle choices as well as the natural aging process. Pregnancy can also affect the results of the procedure. Most patients who experience mild weight gain in the years following surgery report that the fat has distributed more evenly across the body. Areas of the body targeted during liposuction tend to remain slimmer. Patients who develop unwanted fat deposits in other areas of the body may opt for a second liposuction procedure to address this concern. Nearly all patients who choose liposuction and maintain a healthy lifestyle enjoy long-term benefits from the procedure.
Are There Any Risks or Side Effects with Liposuction?
Like all surgeries, liposuction will entail some risk. Most patients experience mild to moderate swelling, bruising, and soreness soon after their procedure. Some patients can experience numbness or itchiness, as well, though these side effects usually dissipate quickly when they occur. Less experienced plastic surgeons may remove too much fat or remove fat unevenly, resulting in an asymmetric, rippled, or uneven appearance. Some patients with cellulite may find that cellulite after liposuction appears more pronounced. Patients with excess skin or poor skin elasticity may experience sagging skin after liposuction. (In many cases, a procedure such as a tummy tuck can be performed simultaneously to tighten the skin at the target site.) Although uncommon, additional side effects may include infection, prolonged numbness, nerve damage, pulmonary or cardiac issues, blood clots, and changes in skin color or texture.
How Much Does Liposuction Cost?
Dr. Zemmel customizes each liposuction procedure to achieve the patient's unique cosmetic goals. There is no fixed price for liposuction, as there are a number of variables that can influence the overall cost. The size and location of the target area, the total number of target areas, and the volume of excess fat can all affect the final price. When comparing the cost of liposuction at various plastic surgery practices, keep in mind that the experience of the surgeon as well as the geographic location of the practice typically factor into the total. At the end of your preliminary consultation with Dr. Zemmel, he will provide you with a quote for the cost of your procedure. Patients who could benefit from a monthly installment plan with little to no interest may take advantage of our plastic surgery financing options. For further details about liposuction financing, please contact a member of our staff.
Contact Richmond Aesthetic Surgery
To learn more information about liposuction, or to schedule a consultation with Dr. Zemmel, please contact Richmond Aesthetic Surgery today.