Liposuction
What Is Liposuction?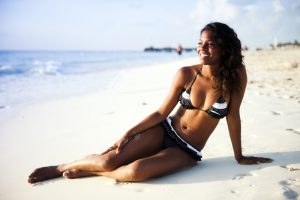 Liposuction is designed to permanently eliminate unwanted fat and can be performed on nearly any part of the body. However, this surgical procedure is not intended for patients seeking dramatic weight loss. Liposuction is most effective for patients who are at or near their ideal weight but still struggle with isolated fat deposits around areas such as the lower abdomen, hips, or love handles. Our board-certified plastic surgeons believe that liposuction is best thought of as a body sculpting procedure that can complement an active lifestyle and a healthy diet, helping patients to fully realize their goals.
What Areas of the Body Can Liposuction Treat?
Liposuction can benefit patients who are already close to their ideal weight but are unhappy with stubborn pockets of fat. When traditional methods of fat loss prove ineffective, liposuction can often be an effective method for revealing the natural curves or musculature of the body. Liposuction can be used to treat most areas of the body, including:
Upper and lower abdomen
Flanks/love handles
Hips
Thighs
Knees
Chin
Neck
Some men also choose liposuction as part of the treatment for gynecomastia (male breast reduction) to achieve a more sculpted chest.
Liposuction Before & After Photos
For a look at what other patients have been able to achieve through liposuction with our surgeons, please visit our liposuction before and after photo gallery.
Who Is a Good Candidate for Liposuction?
Ideal candidates for liposuction have pockets of fat that are resistant to diet and exercise efforts. In addition to being in good overall health, patients should have a body mass index (BMI) of 35 or under to minimize the risk of complications. Areas of the body with good skin tone and elasticity typically yield better results. The best way to determine your candidacy for liposuction is to schedule a consultation with a board-certified plastic surgeon.

Dr. Zemmel and his staff are awesome! I had liposuction of the abdomen and flanks and a breast reduction. I am so pleased with the results. I feel better and look better. I am only in to my 7th week of healing and I have already dropped 2 sizes in my clothes. What a feeling!!! I would strongly recommend Dr. Zemmel to anyone wanting to have 'body work' done. He is awesome.. The whole staff here is wonderful. They make you feel welcome and they truly care. I am looking forward to my new look.

Reece H

September 20, 2013

12345
How Is the Liposuction Procedure Performed?
Liposuction surgery requires only small incisions that can be carefully placed within the natural creases of the body. By using cannulas that are only 2-3mm, our plastic surgeons can minimize postoperative swelling and bruising as well as reduce the overall recovery time. Liposuction is a less invasive surgery compared to procedures such as tummy tuck, and can typically be performed in 1-3 hours depending upon the patient's customized surgical plan. Excess fat will be removed at the target area and the remaining fat can be sculpted to achieve a natural-looking, proportionate, and toned physique.
What Is Recovery from Liposuction Like?
Immediately after the procedure, liposuction patients wear a compression garment to minimize any post-operative swelling. This garment is worn for approximately three weeks to aid in the healing process. Any discomfort experienced during this time can be easily managed with oral pain medication.
Most patients return to work and their normal daily activities after one week. However, strenuous exercise should be avoided for several weeks afterward. Though patients will likely notice an immediate change, the final results of the liposuction procedure will not be evident until the swelling has completely resolved and the healing process is complete.
What Will My Liposuction Scars Look Like?
Since liposuction is a surgical procedure, scarring at the incision sites cannot be avoided. Fortunately, the scars that result from liposuction are often very small and carefully placed in areas that are less noticeable. As a result, scars are typically discreet; they should also lighten and continue to fade with time as the skin heals. Dr. Zemmel and Dr. Reddy will provide you with post-operative care instructions to help you promote wound healing and minimize the appearance of long-term scarring.
How Long Do Liposuction Results Last?
To maintain the results from liposuction, patients should continue to exercise regularly and eat a healthy diet. The fat cells that are targeted during liposuction are permanently removed and cannot regenerate. However, the remaining fat cells are still susceptible to fluctuations in size. Patients can gain (or lose) weight after liposuction, depending upon lifestyle choices as well as the natural aging process. Pregnancy can also affect the results of the procedure. Most patients who experience mild weight gain in the years following surgery report that the fat has distributed more evenly across the body. Areas of the body targeted during liposuction tend to remain slimmer. Patients who develop unwanted fat deposits in other areas of the body may opt for a second liposuction procedure to address this concern. Nearly all patients who choose liposuction and maintain a healthy lifestyle enjoy long-term benefits from the procedure.
Are There Any Risks or Side Effects with Liposuction?
Like all surgeries, liposuction will entail some risk. Most patients experience mild to moderate swelling, bruising, and soreness soon after their procedure. Some patients can experience numbness or itchiness, as well, though these side effects usually dissipate quickly when they occur. Less experienced plastic surgeons may remove too much fat or remove fat unevenly, resulting in an asymmetric, rippled, or uneven appearance. Some patients with cellulite may find that cellulite after liposuction appears more pronounced. Patients with excess skin or poor skin elasticity may experience sagging skin after liposuction. (In many cases, a procedure such as a tummy tuck can be performed simultaneously to tighten the skin at the target site.) Although uncommon, additional side effects may include infection, prolonged numbness, nerve damage, pulmonary or cardiac issues, blood clots, and changes in skin color or texture.
How Much Does Liposuction Cost?
On average, the cost of liposuction is typically about $6,000-$10,000. However, since the procedure is highly customized to each patient's unique cosmetic goals and their specific concerns, this total can greatly vary from one individual to the next. There is no fixed price for liposuction, as there are a number of variables that can influence the overall cost. The size and location of the target area, the total number of target areas, and the volume of excess fat can all affect the final price.
When comparing the cost of liposuction at various plastic surgery practices, keep in mind that the experience of the surgeon as well as the geographic location of the practice typically factor into the total. At the end of your preliminary consultation with Dr. Zemmel or Dr. Reddy, they will provide you with a quote for the cost of your procedure. Patients who could benefit from a monthly installment plan with little to no interest may take advantage of our plastic surgery financing options. For further details about liposuction financing, please contact a member of our staff.
Liposuction vs. Tummy Tuck
Liposuction and tummy tuck surgery are frequently combined to provide enhanced results, but each procedure addresses specific concerns. Liposuction, for instance, is solely focused on removing excess fat. Tummy tuck, on the other hand, is designed to remove or tighten redundant skin, as well as repair abdominal muscles in some cases. Patients who exhibit a protruding abdomen from excess skin and fatty tissue can often benefit from a combination of the two procedures, achieving a more toned and tightened midsection. Those with a protruding abdomen caused by only one of the concerns, however, are typically better candidates for only one of the sculpting procedures.
Liposuction vs. Weight Loss Surgery
Although liposuction provides effective fat removal results, it is not intended as a weight loss procedure. Liposuction is designed to treat localized areas of excess fat that do not seem to improve with a healthy diet and regular exercise. Candidates for liposuction should be at or near their goal weight. Patients who struggle with their weight may need to adopt a healthier lifestyle before they can be considered for liposuction. Those suffering from obesity, with a body mass index (BMI) of around 35, may benefit more from bariatric surgery. During your consultation, your surgeon will perform a physical exam and go over your medical history to determine if liposuction is the best solution for your fat removal goals.
Additional Frequently Asked Questions About Liposuction
How Much Fat Can Be Removed with Liposuction?
The optimal amount of fat that can be removed with liposuction will vary for each person based on the details of their treatment. However, in general the procedure is considered safe to remove up to 4 liters of fat for the right candidates. Keep in mind that liposuction is not a weight loss procedure and should only be used to contour localized areas of fat.
Is Liposuction Safe?
When performed by a board-certified plastic surgeon, liposuction is considered a safe procedure. At Richmond Aesthetic Surgery, your safety is Dr. Zemmel's and Dr. Reddy's top priority. If you are interested in liposuction, our team can go over the potential risks of surgery to ensure you can make an informed decision about your health.
Dr. Zemmel and Dr. Reddy are highly experienced in performing liposuction procedures in a variety of body areas, and they will not recommend the procedure unless they believe you are a good candidate with a low risk of complications. In addition, they perform all surgical procedures in the hospital setting to maximize patient safety.
What Age is Ideal for Getting Liposuction?
You must be at least 18 years old to undergo liposuction, though rare exceptions may be made. Aside from this minimum age requirement, the best candidates for liposuction are those in good health with realistic expectations. Patients in a wide age range choose to undergo liposuction and can achieve beautiful results. It is important, however, that you have good skin elasticity. This is because lax skin in the target area may not retract well after the fat is removed, leading to sagging skin. Your candidacy will be closely evaluated during the consultation process.
Can Liposuction Be Covered by Insurance?
Liposuction is usually considered an elective procedure for cosmetic purposes, and as a result, most insurance plans do not cover the procedure. If you are interested in undergoing liposuction but would prefer to break the total cost into smaller, monthly payments, we accept multiple financing options to make it fit more comfortably within your budget.
Can Liposuction Get Rid of Cellulite?
While liposuction may provide subtle improvement in cellulite for some patients, the procedure is not typically an effective treatment for this common concern. Some patients may even notice their cellulite becomes more noticeable. Characterized by dimpling of the skin, cellulite is caused by fibers underneath the skin pulling it down, as well as fatty tissue pushing against the skin. Liposuction can remove some of this excess fat, but the fibers will still remain.
Is Liposuction Painful?
Minimal pain is typically experienced the day after liposuction. Dr. Zemmel and Dr. Reddy utilize small cannulas to extract fat during liposuction, helping ensure the least amount of trauma and pain from surgery. Most patients will be under general anesthesia for their procedure, helping them remain completely comfortable for the duration of their liposuction surgery. Any post-operative discomfort is usually well-tolerated with pain medication, as well as reduced as they begin to walk around again.
How Can I Tighten Loose Skin After Liposuction?
Immediately after liposuction, you may notice your skin is slightly loose in the treated area. This should gradually tighten over approximately 6 to 12 months, assuming you have good skin elasticity. If you present with excess skin during the initial consultation, your surgeon may recommend a tummy tuck be performed in conjunction with your liposuction. Non-surgical treatment options are also available to help tighten mild skin looseness after surgery.
How Can I Reduce Swelling After Liposuction?
Swelling after liposuction is a normal part of the healing process. This side effect will continue to fade over time, but it may take several months to completely disappear. Depending on the details of your surgical plan, drainage tubes may be placed to reduce excess fluid buildup. Compression garments are also recommended to minimize post-operative swelling.
How Soon Can I Workout After Having Liposuction?
Patients are recommended to start light walking as soon as they feel comfortable during their liposuction recovery, typically within the first few days of surgery. Doing so can help facilitate the healing process. You can continue to increase your activity over the first two weeks, unless you are instructed otherwise. Strenuous exercise, however, should be avoided for at least a month to allow your body enough time to heal. Resuming exercise too early can lead to additional swelling or cause complications with your incisions.
Contact Richmond Aesthetic Surgery
To learn more information about liposuction, or to schedule a consultation, please contact Richmond Aesthetic Surgery today.