Vectra® 3D Imaging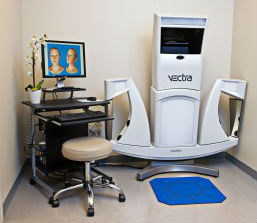 Dr. Zemmel and Dr. Reddy seek to help every candidate for plastic or cosmetic surgery make well-informed decisions about his or her health and body. They use the latest techniques and technologies to achieve natural-looking, beautiful results. With our Vectra® 3D Imaging technology, our patients can now see a preview of how their results may look during the consultation process.
Choosing to undergo plastic surgery is a major decision. Vectra® 3D Imaging can eliminate some of the guesswork and allow patients to feel confident and comfortable in their choice. One of the most common questions patients ask during the consultation is, "What will my results look like?" Vectra® 3D Imaging offers an answer.
By creating a 3D scan of the body, VECTRA® 3D Imaging technology can show patients how they might look after a specific cosmetic or plastic surgery procedure.
Beginning with a realistic image of the patient, our plastic surgeons can enter various medical data to modify and manipulate the image, reflecting the changes that will likely occur after the procedure. This state-of-the-art tool also facilitates improved doctor-patient communication and provides a visual reference to discuss the patient's unique goals. Our plastic surgeons can then use this information to better tailor each procedure, meet the patient's needs and expectations, and ultimately improve patient satisfaction.
While there is no guarantee that surgical results will mirror the image produced with Vectra® 3D Imaging, these images have proven to be a valuable resource for candidates deciding if a particular plastic or cosmetic procedure is the best choice. Vectra® 3D Imaging can be used to simulate the results of a wide variety of surgical results, including:
If you would like to schedule a consultation with one of our plastic surgeons and see the benefits of VECTRA® 3D Imaging technology, please contact our office today.