Tummy Tuck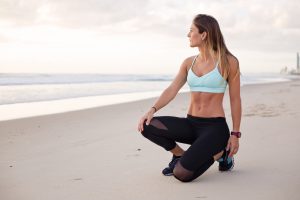 A tummy tuck (otherwise known as an abdominoplasty) is designed to remove excess skin and fatty tissue from the abdomen. When the underlying abdominal muscles are stretched or torn, a tummy tuck can also tighten and repair these tissues. Our plastic surgeon can use tummy tuck surgery to target all three layers of the outer abdominal wall and can create a flatter, more toned, athletic-looking silhouette.
Being a petite build woman and having gone through 2 successful pregnancies, one of which was twins, I was unhappy with my midsection. I chose to have an abdominoplasty done. After going to 3 local surgeons for consultations, I was most impressed by the professionalism of Dr. Zemmel and his staff. They are extremely committed to helping you feel confident about yourself and working with you every step of the way in order to achieve the realistic look you are striving for. Not only is Dr. Zemmel honest but he is also trustworthy! The surgery along with the recovery was not as terrible as I had planned it to be. You will definitely need help for the first week or two, which the office prepares you with all of this information during your pre-op visit. Any questions or concerns that you have, even up to the day of the surgery they are right there with you, every step of the way. If I was asked now, being 4 months post op, would I change anything or have done anything differently. I would have to say 'no.' If anything, I would not be as nervous as I rightfully was going into the surgery, had I known how supportive and helpful Dr. Zemmel and the wonderful ladies in his office are!

Devyn O

August 26, 2013

12345
Benefits of Tummy Tuck
Tummy tuck surgery can benefit men and women who are at or near their ideal weight but have excess abdominal skin that prevents them from attaining their ideal figure. Some tummy tuck candidates have undergone massive weight loss and have a significant amount of lax skin remaining. Patients who wish to eliminate areas of excess fat as well as excess skin can combine a tummy tuck with liposuction to maximize the impact of their procedure. Mothers often choose to undergo a tummy tuck to repair the muscles stretched or torn during pregnancy, reduce the visibility of stretch marks, and regain their pre-pregnancy figure.
A tummy tuck can also be performed as part of a more comprehensive mommy makeover.
The Tummy Tuck Procedure
A tummy tuck (full abdominoplasty) can effectively address overhanging abdominal skin and protrusion due to lax musculature. By tightening the abdominal muscles, your plastic surgeon can create a firmer abdominal wall and a narrower waistline. Since all excess skin and fatty tissue is removed, the stomach can also appear flatter and smoother.
The tummy tuck procedure begins with an incision along the abdominal wall. This incision is typically placed as low as possible, just above the pubic area, and can be easily concealed beneath underwear or a bikini bottom. Once the skin is lifted from the abdomen, your plastic surgeon can tighten the underlying musculature (the rectus abdominus muscles) and repair any tears. The skin and fatty tissue are then pulled taut across the abdomen and any excess tissue is removed. Stretch marks or C-section scars can often be excised in the process. Finally, the navel (umbilicus) is repositioned to its proper height and can be tailored to achieve the most natural appearance. Tummy tuck surgery usually takes 2-3 hours to complete, depending upon the patient's unique needs.

Mini Tummy Tuck
Some men and women may not need a full abdominoplasty to achieve their goals. A mini tummy tuck targets just the area of the lower abdomen below the navel, but can still achieve a flatter, more toned silhouette. During the consultation process, your plastic surgeon will perform a physical examination, thoroughly discuss your expectations for the procedure, and help you decide if a mini tummy tuck is right for you.
A mini tummy tuck begins with a small incision low on the abdominal wall. This incision is often shorter than full tummy tuck surgery and can be easily concealed with underwear or a bikini bottom. Only the abdominal muscles below the navel can be tightened during a mini tummy tuck, and a smaller amount of excess skin and fatty tissue can be removed compared to a full tummy tuck. Some stretch marks and any prior C-section scars can still be eliminated. During mini tummy tuck surgery, the navel remains in the same position. This procedure typically takes 1-2 hours to complete.
Contact Richmond Aesthetic Surgery
For more information about tummy tuck or mini tummy tuck surgery, please schedule a consultation with Dr. Zemmel at Richmond Aesthetic Surgery today.